Buy, Sell, and Trade your modern and antique firearms, swords, military relics and sportsman related items at the next NIAGARA FRONTIER GUN SHOWS SHOW! Please use the menu above for more information on upcoming Niagara Frontier Gun Shows events, applications, rules, and more.
Messages from Management:
News: NYS taking over background checks for all gun and ammo purchases and charging for them
WATCH: Carrie Underwood's Anthem Stops NFG's Gun Show
---
Countdown to the Hamburg Show
January 6-7, 2024
---
Welcome To The New Erie County Clerk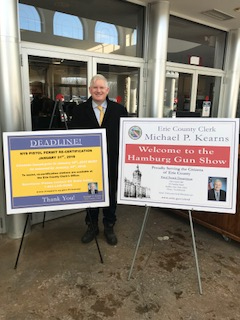 Niagara Frontier Gun Show's staff would like to Congratulate newly elected Erie County Clerk Mickey Kearns. We thank you and your staff for the continued support at the Hamburg Fairgrounds. We all look forward to working with you and the pistol clerk staff at future gun shows.
---
After many years of building up successful shows with Niagara Frontier Collectors (NFC Shows), we've ventured off on our own, starting a new organization, Niagara Frontier Gun Shows (NFG shows). It is our ambition to continue bringing top quality, prosperous gun shows to the WNY and surrounding areas. Thank you for your continued support.
Bruce Johnston
            Family & Staff
---
News:

PISTOL permit holders. New York State's passed gun law the "NY SAFE ACT" includes the ability for pistol permit holders to "Opt-Out" and request that their information be kept private and confidential. Click here for the OPT-OUT form request and information
NYS Safe Act – Here is the FAQ about the new gun laws in New York State
NFG Shows has established procedures that go beyond the requirements of the state's Gun Show Law
Important Legal Info:
New York State law requires that a National Instant Criminal Background Check must be completed prior to all firearm sales or transfers, including sales or transfers of rifles or shotguns. The sale or transfer of a firearm, rifle or shotgun at a Gun Show without first conducting a Background Check is a crime.
General Info:
– For table set up prices inquire on the application page for that particular show
– CHILDREN UNDER 12 FREE WHEN ACCOMPANIED BY A PAID ADULT
– ALL SHOWS HAVE NICS BACKGROUND CHECKS AVAILABLE